HOW TO DECORATE A BATHROOM
Posted by Constantine Kirillov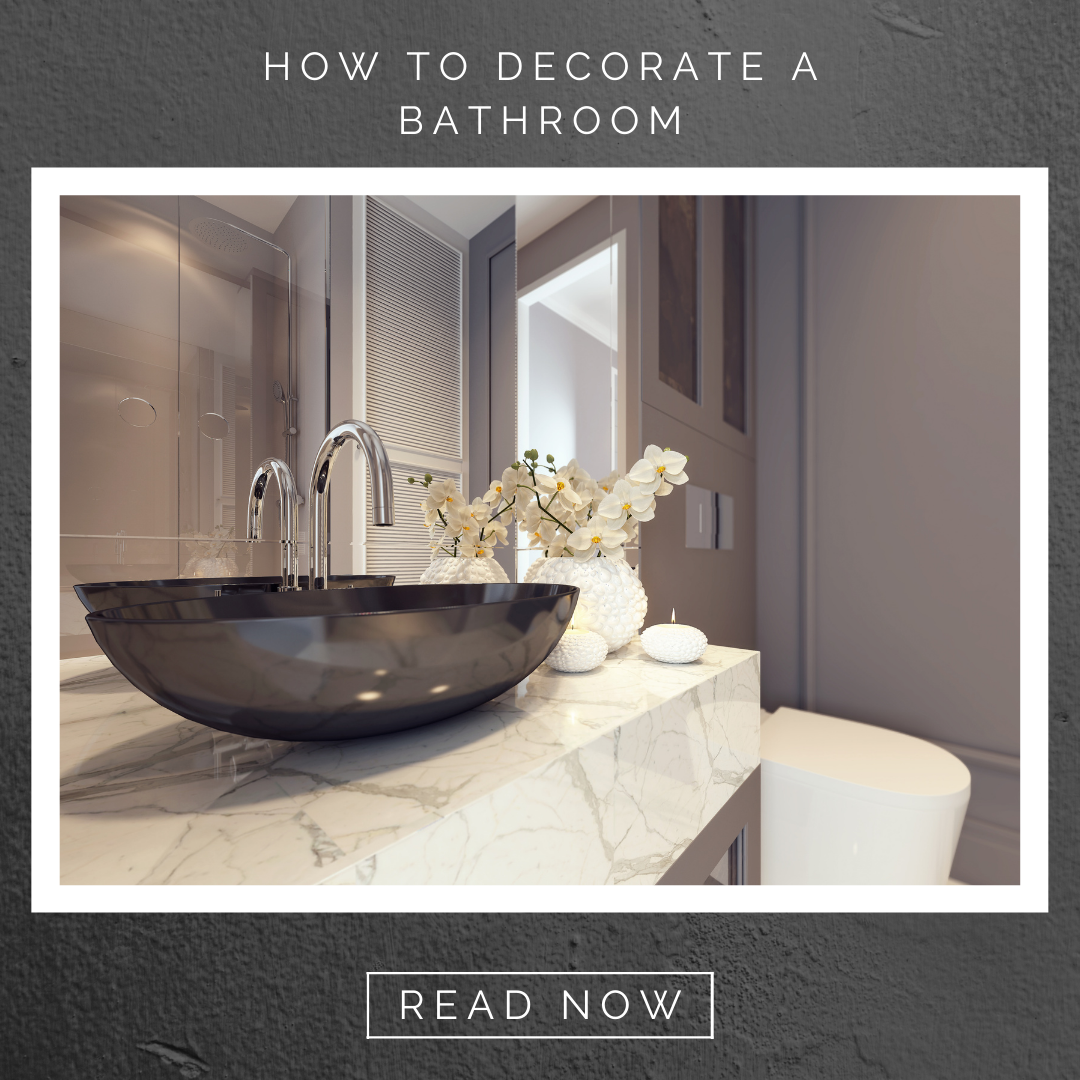 Need some bathroom design inspiration? We have plenty! Social media platforms are flooded with images of gorgeous bathrooms from all around the world. It can be hard to decide which style is most embodies your personal taste, but luckily we're here for you - take this opportunity (and our super short list) in order find out what works best on yours:
1. PICK A COLOR SCHEME FOR YOUR BATHROOM
Bathroom color schemes are a personal decision, but there's no need to be stuck with just white or black when you can choose from an array of shades. Depending on what mood and style preferences appeal most, dark paint ideas might work better in smaller bathrooms as they add luxury and elegance without taking up too much room!
Design director David Harris, of global design company Andrew Martin says that dark and rich colors such as orange can be used to create a more intimate venue. These hues bring depth while also allowing you room for personality flair!
2. LAY DOWN THE FOUNDATIONS FOR BATHROOM FLOORING
Your bathroom is one of the most used rooms in your house, which means it deserves careful consideration when deciding on what finish to use for its floors. Imitation laminate or luxury vinyl tile (LVT) are great options if you're on a budget; but don't forget about real wood as well! The latest designs and finishes go far beyond cheap linoleum tiles that will only look outdated after awhile--you can find anything from contemporary art prints ringside to beautiful personalized mats at affordable price points
3. DECIDE ON YOUR WALL FINISHING
Some people choose to paint their bathroom walls, while others look for wallpaper ideas and trends. Tiling is another popular way of designing a clean space that can be done in any material from tile or Cork-laminate flooring options with matching Vanity mats at the bottom - They're all there on your list? pick what looks best!
Bathroom tiling decor is an excellent strategy for walls that may get wet. Coordinate your tiles with the current trend in bathroom designs to create a harmonious scheme and try using mosaic-motifs on retro bathrooms, which give off a "70's look."
The beauty lies within each individual's preference when it comes down choosing how they want their beautiful room decorated; ultimately there isn't one right answer because everyone has different requirements as well financial constraints which will determine if something like this project would actually work out financially before even starting anything so make sure you take those things into consideration first too
4. BE BOLD WITH YOUR SINK AND FAUCET DESIGN
When designing a new bathroom, it is important to consider the sink. A bold color or design can change up your space and provide you with more storage for all those towels! You could also go with an unusual size if that's what fits best in terms of height but make sure they match other features such as plumbing fixtures because once everything goes together smoothly there won't be any problems eye-catching feature left uninvited guests over time.
Ceramic and resin sinks are often the first features that come to mind when people think of affordable bathroom decor. However, cost can play a huge role in what kind or design you want for your space - ceramic pieces tend not only be more budget friendly but also provide durability over time while other materials may start cracking after just one year!
5.ELEVATE YOUR SPACE WITH ELEGANT BATHROOM STORAGE
Organizing a bathroom storage design is an important task, because it's the room where you'll find your toiletries and other necessities. A cluttered space not only looks less aesthetically pleasing but also wastes time when looking for items that are out of reach. There are plenty of ways to store these products in style with industrial-inspired shelving ideas like those found at COMFIFY - so don't let this organizational challenge stop you from achieving your goal!
6. MAXIMIZE YOUR SPACE WITH MIRRORS
Bathroom mirrors are essential for any home, but they don't just serve one purpose. Whether you're getting ready to go out or checking if there's anything stuck in your teeth - a bathroom mirror has more magical abilities than we know! With almost unlimited possibilities when pairing it with our favorite design ideas from big statement pieces all the way down small accesories such as wall sconces and countertop lights; this is an investment worth making so that even those who might not have room left over can still find their own style within themself while using visuals effectively without feeling too cluttered
Designer 4-Piece Bathroom Accessory Set -COMFIFY
7. LASTLY, CURATE A COLLECTION OF WELL-CONSIDERED ACCESSORIES
When it comes to bathroom design, the accessories are your true voice. And with so many options out there from toothbrush holders and soap dishes all the way up style trends like maximalism or cottage-style decorating; selecting what is best for you can be difficult! 
If you're looking for a way to spruce up your small bathroom, or just need some new accessories and furniture pieces in general, look no further. We have everything from bath mats, toilet paper holders, towel racks and shelves that will help give the space more character while also making it easier to use! Our 4-Piece Bathroom Accessory Set is perfect if you want something simple with clean lines but still has a little flair.