10 Must-Have Holiday kitchen accessories
Posted by Constantine Kirillov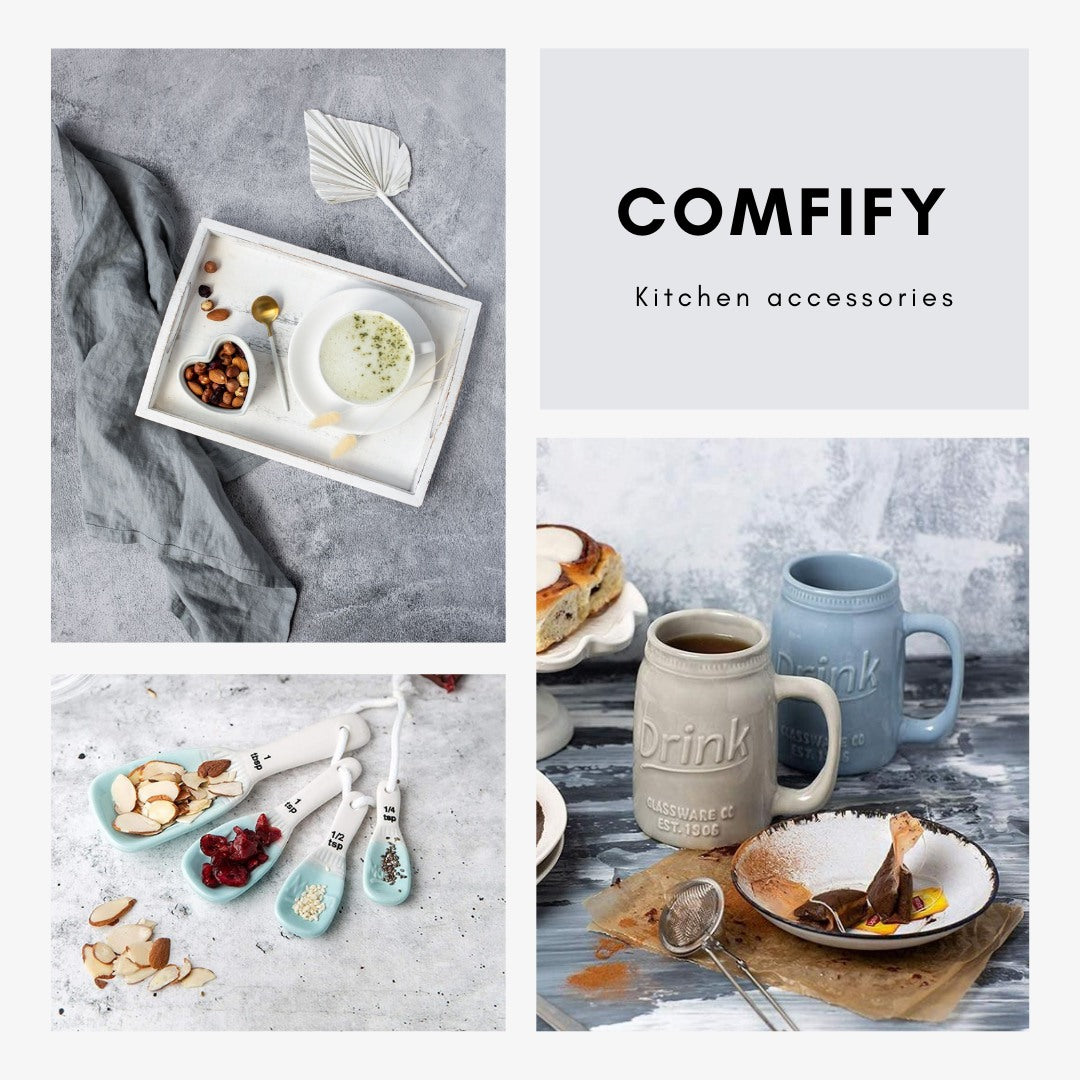 When you're cooking for the holidays, it's important to have all of your kitchen essentials ready. These products will help make sure that not only do they get dinner on table fast but also keep things running smoothly in between big gatherings!
The days when you can just focus on one thing at a time are over. The pressure of hosting an amazing holiday meal has never been higher and it's only going to get worse as soon as dinner parties start popping up left-and right before long!. But don't worry! With these few tools in hand, cooking won't seem like such hard work anymore – even if your old kitchen was anything but clean or organized..
Mason Jar Ceramic Canister Set for Kitchen
Mason jars are often used for storing food, but they can also serve as stylish storage containers in your kitchen. The Mason Jar Ceramic Canister Set is a set of four different-sized jars for storing everything from flour to sugar. Each jar has its own lid and comes with a matching spoon, so you'll never have to worry about losing it again! These jars feature an interior label that helps identify what each jar contains.    Here's how the labels break down: 1) Flour 2) Sugar 3) Brown Sugar 4) Cornmeal. This set makes a great gift idea for any cook who loves baking or cooking at home!
Comfify Colander Collapsible
The first time you see a collapsible colander, it's hard to believe that they're capable of holding more than a gallon of liquid. But as soon as you give them a try, you'll be convinced! We've been working on perfecting the design for over three years now and we finally have something worth sharing with the world. The best part is that these colanders are not only durable but also dishwasher safe and fold up into their own matching carrying case!
Farmhouse Utensil Organizer for Kitchen Countertop
Is your kitchen countertop cluttered with cooking utensils, spices and other items? Do you find yourself searching for things in piles of clutter? If so, it's time to invest in a Farmhouse Utensil Organizer. This simple add-on will keep everything at your fingertips and reduce the need to search through piles. You'll be able to cook faster and more effectively when you have easy access to all of your supplies. The best part is that this organizer can also be used as a trivet or pot holder! 
Cast Iron Heart Trivet
A cast iron trivet is a versatile and durable piece of cookware that can be used in any kitchen. Cast iron is an excellent conductor of heat, so you can place your hot pots or pans on this trivet without worrying about the burners getting damaged from the high temperatures. This trivet also has a heart shaped design, making it perfect for Christmas.
Comfify Owl Utensil Holder Decorative
Cute and quaint, this little kitchen aid pot is the perfect accessory for your shabby chic décor. With its friendly color of aqua blue it will match any style from modern or traditional kitchens! You can use these ceramic containers to store cooking utensils as well- whether they are steel knives in their original box made by Teflon coated material that doesn't conduct heat at all (so safer) but also has durability issues over time because once you put anything hot inside there's no telling what might happen;  even coffee cups could melt if left unattended while sitting next.
Comfify Pour Over Coffee Maker with Borosilicate Glass
Coffee is a morning ritual for many people. Whether you drink it to wake up or to enjoy the taste, there's no denying that a fresh cup of coffee is a great way to start the day. If you're looking for a new coffee maker that will make your mornings even better, check out the Comfify Pour Over Coffee Maker with Borosilicate Glass. It's perfect for those who want to brew their own coffee and enjoy a delicious cup every morning. Plus, the borosilicate glass construction ensures that your coffee stays hot longer.  So if you're looking for a quality coffee maker that will help you start your day off right, be sure to check out the Comfify Pour Over Coffee Maker 
"Monkey" Candy Tray Made of Resin

 
A little does go a long way with this monkey candy tray made of resin. It is the perfect size for holding a few pieces of candy or jewelry. The playful face of the monkey will make you smile and her tail is the perfect place to hang your earrings. At only $29.99  this tray makes a great gift for any occasion. Order yours today!