Comfify Helps You Decorate Your Home for Christmas
Posted by Constantine Kirillov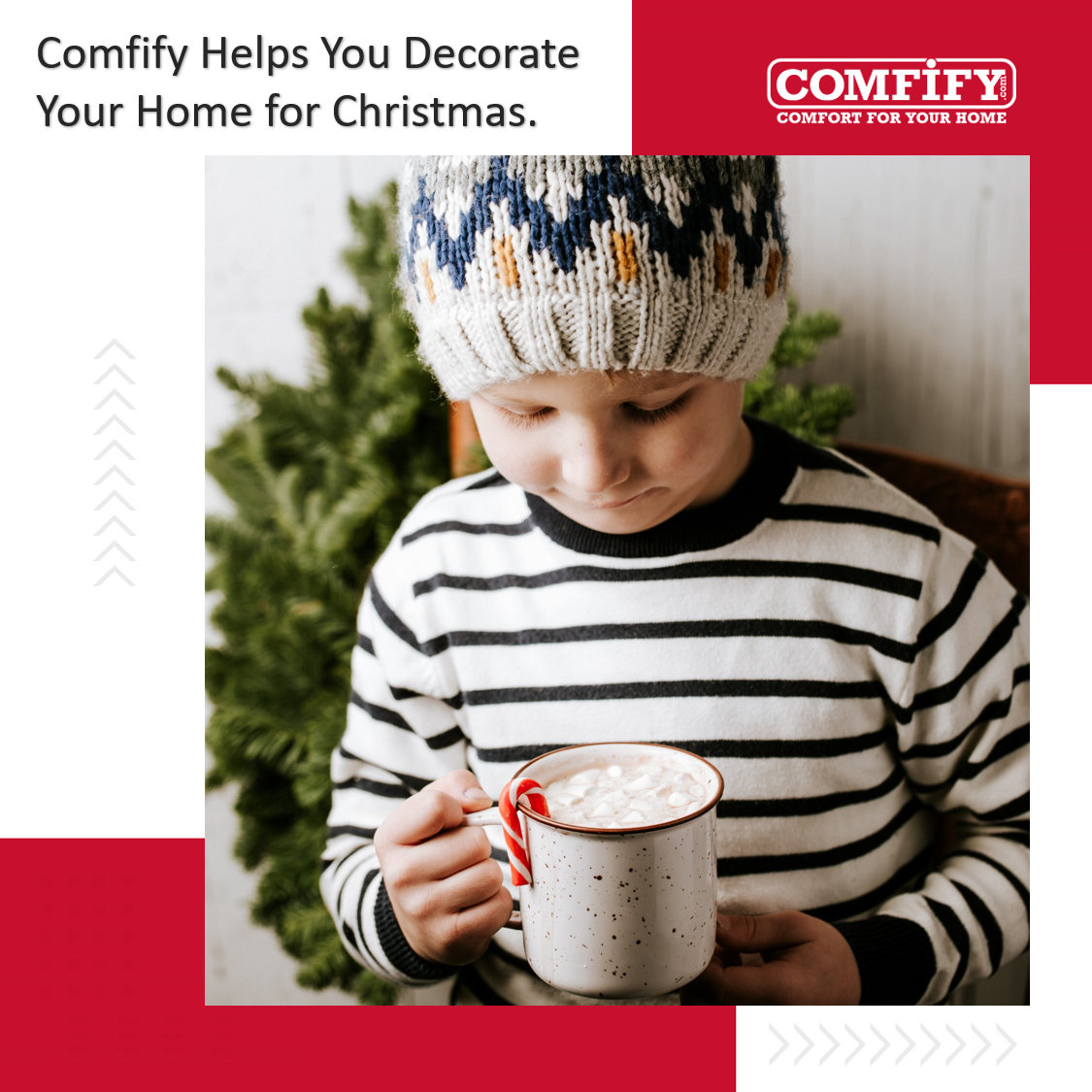 Decorating for Christmas is one of the best times of year. You get to spend time with family, eat delicious foods and goodies, and give and receive exciting gifts all in your matching pajamas. It's no wonder people love to start decorating for the holiday season earlier and earlier each year.
Did you know that decorating for Christmas actually makes you happier? Psychoanalyst Steve McKeown said: "In a world full of stress and anxiety, people like to associate with things that make them happy and Christmas decorations evoke those strong feelings of childhood.
 This Christmas, we want to help you bring comfort and happiness with the right decor. Decorating can be split up into different aspects of your home including: aroma, taste, touch, and sight.
 With the right decorations, you can transform your home into a comfy, cozy Christmas wonderland this year. Here are some ways to get you started:
 Aroma
Scented candles are a big part of what makes decorating for Christmas so magical. Nothing sets the holiday mood like a fresh candle that fills the air with rich, comforting aromas. The most popular scents include: pine, cedar, campfire, gingerbread, cinnamon, vanilla, and cashmere. Many times Christmas candles come in beautiful, festive jars that will make you want to put one in every room.
Taste
If you're planning on hosting a dinner party, you're going to need to do a little extra decorating. For appetizers, set out a wood serving board with crackers and fine cheeses. For the main entree, opt for some holiday stoneware with subtle, festive details. Add a wow factor to your table settings with bright charger plates and elegant napkins.
Finally, for some dessert coffee or eggnog, pull out rounded ceramic or glass mugs and sprinkle nutmeg and cinnamon. Nothing says Christmas like a delightful mug full of rich hot chocolate and marshmallows. Novelty mugs for the kids and ceramic speckled mugs for the adults will turn sitting by the fire into a sweet, tasty holiday tradition.
Touch
Blankets are more than just a way to keep warm this Christmas, they can transform your room into a cozy, inviting place. Create a warm, comfy feeling in any room by adding a Sherpa throw or a knit blanket. Cream colored blankets go great with almost any color scheme, and they'll look great as a throw when not in use.
 Sight
The Christmas tree is the focal point of all our Christmas decorations. Pick a theme or color scheme that translates well to other decorations, like candles, and figurines. To create a seamless look, use the same type of lighting on the Christmas tree, the mantle, and along the windows.
After the tree is looking pretty and bright, focus on the mantle above your fireplace (or a decorative table if you don't have one). Staggered candles, a nativity scene, glass hurricanes with potpourri or colorful ornaments, and stockings are a great way to spruce up the mantle.
Another way to fill your home with Christmas decor without actually adding too much is by hanging fake wreaths, branches, berries, and mistletoe above door frames or up on the wall. Add big red bows for some cheerful color. It brings a winter wonderland feeling indoors, without worrying about pine needles getting everywhere.