CUTE & USEFUL: GIRAFFE PAPER HOLDER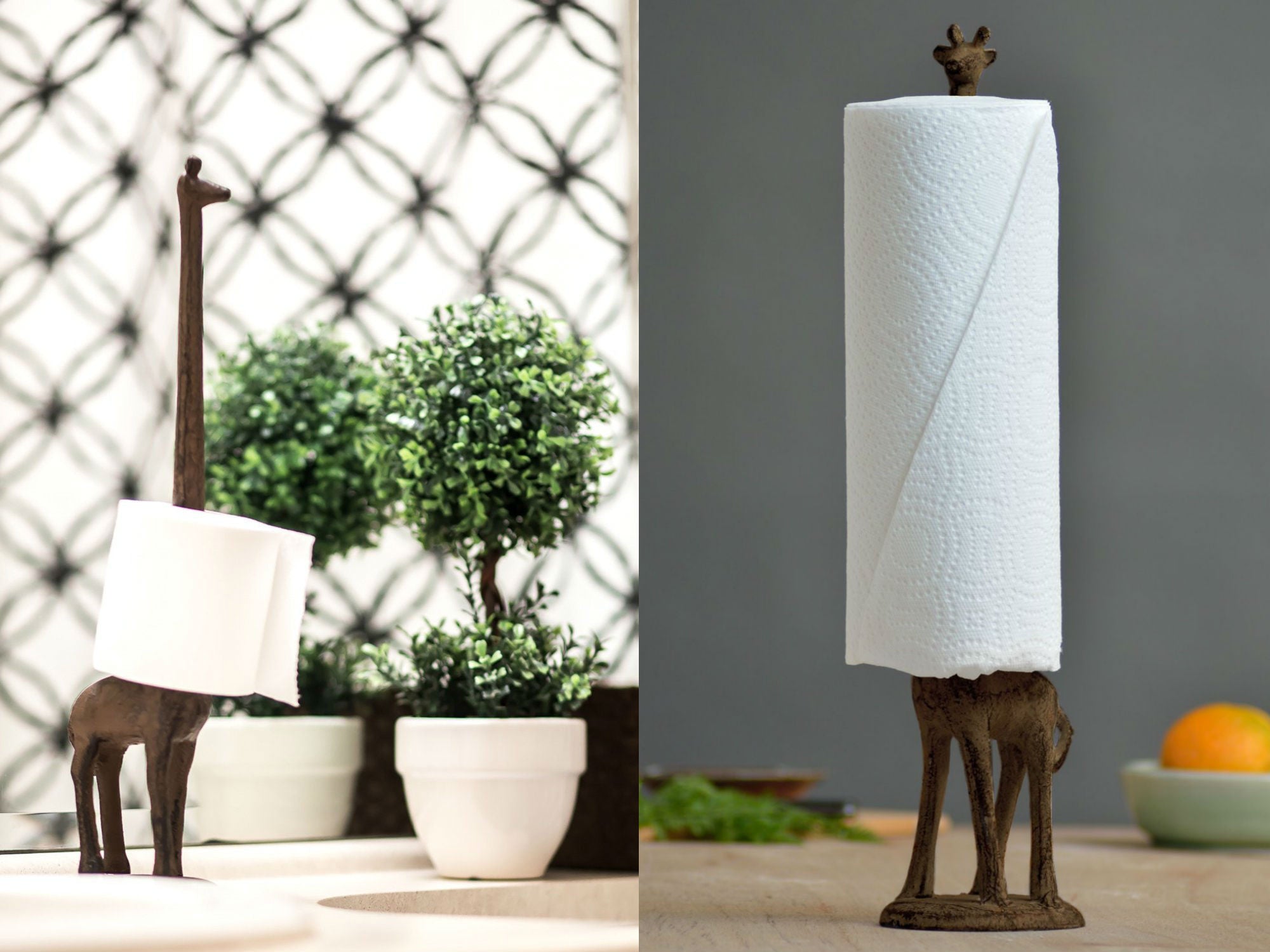 If you are not a particularly young person, you might have a dim memory of the simple mechanical devices on restroom walls with a cloth hand towel that looped through. You pulled on it get a "clean" section, a new swath of pressed cloth. It was wrinkle-free and somehow dry, but there is no way it was sanitized at all. Those in the medical profession were probably among the first to realize that reusing hand towels in a public place is a bad idea. But not every institution had the means to launder a clean hand towel for each visitor. If you have more recently encountered a restroom with fresh cloth towels, it was probably at a swanky country club or a very fancy restaurant.



Once upon a time, cloth towels were the only option. You might think that the invention of paper towels must have been inspired by a housewife's complaints about all the kitchen towels she had to launder, but it seems they were created for use in public buildings, to avoid the spread of germs. As you know, electric air dryers and paper towels are now the norm when you wash your hands outside the home.



With the proliferation of affordable disposable paper products, someone had the good sense to dispense them from a roll and perforate them for easy tearing. That cranky housewife must have found this very convenient, and the paper towel roll eventually caught on as a domestic necessity.



You can just take the plastic wrapping off your roll of Bounty and plunk it on the kitchen counter, but most people like to have a holder of some sort that allows the roll to spin the way it is intended. Some holders are screwed to the wall or to the inside of a cabinet door, usually underneath the sink. You still see white plastic ones in unrenovated homes, so they must be more durable than they look.



If you don't want to hide your paper towels and prefer to keep them especially handy, use a holder that just sits on the counter (plus you don't have to screw holes in a wall or cupboard.) These stand-alone holders seem to be the latest trend in paper towel management. The simpler ones that are essentially a spindle on a heavy base can also be used to hold extra rolls of bathroom tissue. This is especially helpful if you do not have storage in your powder room because you have a pedestal sink.



When your paper holder is going to be visible, it should enhance your home decor, whether that is contemporary, vintage, or eclectic. There are many different styles of paper holders, but how many are cute? This adorable giraffe is using his long neck to be helpful. When you need a gift for someone moving into their first apartment or for the person who has (almost) everything... they need a paper holder, so why not have fun with it?