Farmhouse Décor 101: Bathroom
Posted by Constantine Kirillov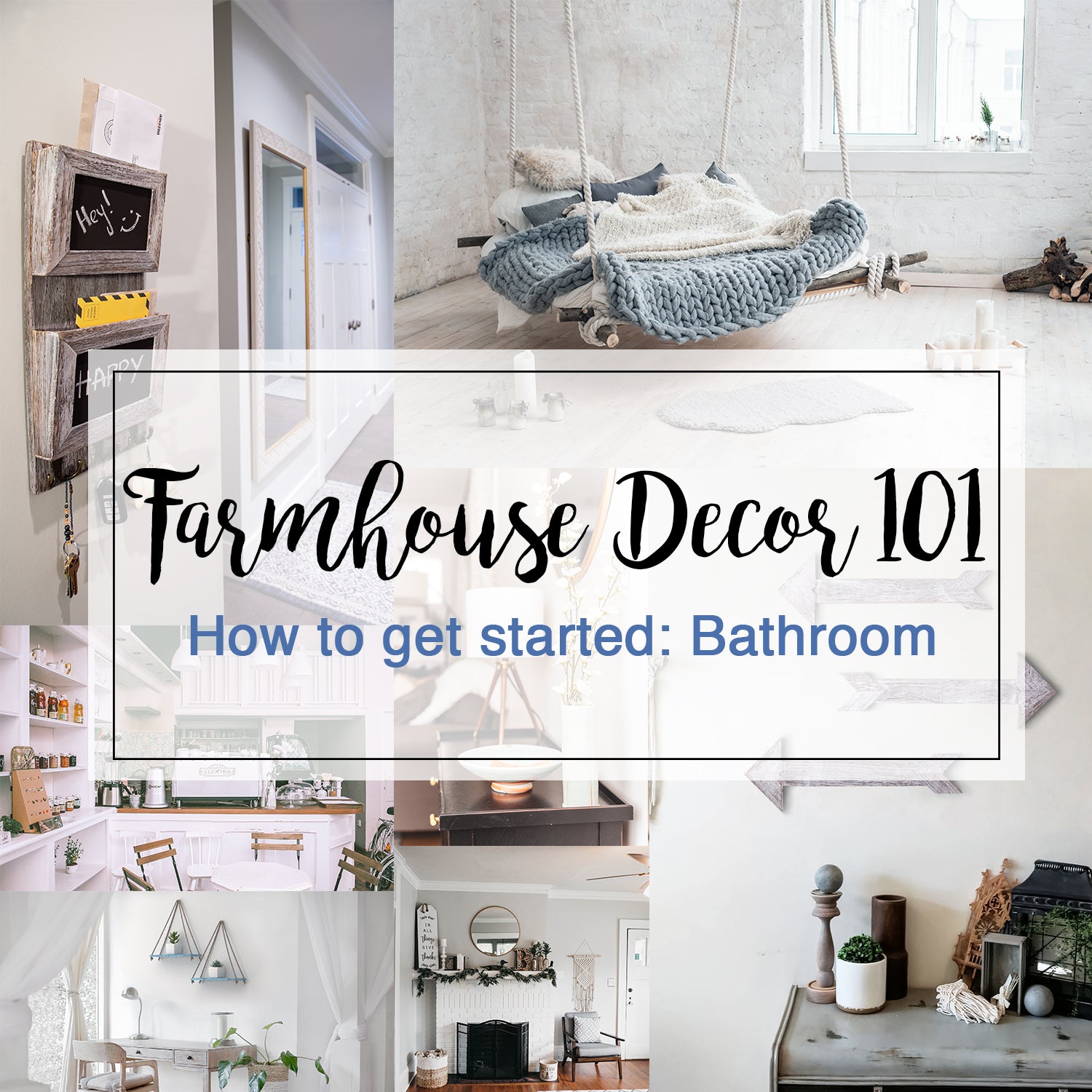 Today's take on modern farmhouse decorating is rooted in rustic country charm peppered with warm minimalism and industrial elements somewhat similar to Scandinavian interior design. Striking just the right balance of pastoral and refined, modern farmhouse decor emphasizes comfort and casual living with contemporary sensibilities reflective of today's times. Think utilitarian, natural yet refined, country yet eclectic and sophisticated as go-to modern farmhouse interior design characteristics.
Though it's often surprising to initially hear the terms "modern" and "farmhouse" together, this go-to union of design styles is more than newsworthy. When looking to cultivate your own take on modern farmhouse decor, it always pays to put a fresh spin on rustic elements so your home feels unique to you while remaining thoroughly modern in spirit.
And there's good reason why so many people, from Los Angeles to Brooklyn fall for modern farmhouse style. Its stylized approach to comfort and beautiful, simple design, evokes a spirit that's warm and inviting, even if you are nowhere near a farm. That said, some design fans avoid the style altogether, mistaking it for a classic idyllic style when it's so much more than that.
Since today's approach to modern farmhouse interior design is about a low-key combination of stark minimalism and country chic elements, have fun and be explorative as this is one decor trend that celebrates freedom and individuality.
For a modern farmhouse interior, it's all about a vibrant mix of the old and the new for a comfortable, soothing vibe. Keep things interesting with unique finds, heirloom hand-me-downs, and arty (not crafty) decorative add-ons.
Organic and natural materials are the foundation for modern farmhouse decor. Source a mix of industrial metals for modern farmhouse kitchen decor
counterbalanced by sleek white marble countertops and a large farmhouse sink. By sticking to simple sophistication, you'll also be able to inject natural elements to highlight a truly modern farmhouse interior custom to you.
The colors you choose will be crucial to making this look work. Gone are the sage greens and buttermilk yellows that harken to older farmhouse styles. These days, a neutral color palette is a crucial part of any modern design, and including one in your farmhouse-inspired space will be the thing that helps keep your fresh, clean, and totally current.
As always, you'll want to keep the 60-30-10 rule in mind. Here, white is the natural choice to fulfill the role of your dominant shade. For your other two colors, think about using earthy shades like grays, tans, and browns. Bare in mind that your accent shade should be the boldest of them all.
In this modern era, having a space with a farmhouse decoration and style would be like leaving the hassle life behind, heading to a simpler and more relaxing situation. Commonly, a farmhouse bathroom will use a lot of wood element of its furniture. These days, this particular style of bathroom uses a mixture of rustic element and modern look.You can specifically achieve the desired vintage look with up-to-date practicalities.
Credit: https://newport-international-group.com/
There are many little tricks and tips that allow you to embrace the farmhouse look without going in for a major revamp. A simple claw-foot bathtub that is painted in a muted hue is both trendy and fits the theme seamlessly. Lovely wooden cabinets and side tables also lend the woodsy appeal without forcing you to redo the flooring entirely! Allowing you to blend the vintage with the modern (not contemporary), this is a style that firmly places function ahead of picture-perfect appearance. If you are short on vintage finds, just shop at your local antique show, and soon you will have some peerless decor that you can proudly showcase.
Top ideas for your modern farmhouse bath:
Mirrors
Large or small, mirrors are a focal point of any bathroom's decor. Even in small bathroom spaces, a large mirror can be used successfully. Mirrors reflect light, giving the impression of a larger space, and they make dark bathrooms bright and cheery. Mirrors can also be used to hide elements like a deep countertop cabinet or add a decorative flair to the room, similar to a piece of wall art.
Rustic Towel Holders
Now you can experience the delight of seeing your bathroom become ORGANIZED! No more picking up the same items that can easily be hung. An affordable and simple solution to de-clutter with farmhouse wall decor.
Mason Jar Vanity Accessories
Get yourself a bathroom accessory that matches your rustic, farmhouse décor! Beautifully designed to serve as both soap and toothbrush holder, this exquisite piece of bath décor will look astonishing while keeping everything organized.
Wicker baskets
The bathroom is also a room where there are always things that need to be stored. A large wicker basket would be perfect for dirty laundry it would also be a nice and beautiful way of hiding it. Smaller wicker baskets an also be used for towels or small things like hair pins, makeup or even for shampoos and shower gels.
Rustic Shelves
Display charming showpieces, decorative items, and other prized possessions while offering functional storage with U-shaped display shelves. Reduce clutter and highlight your rustic décor
Rustic Wall Art
While rustic style in its most traditional sense might appear heavy and dark today, a contemporary rustic style has emerged over the past few years that feels both fresh and real, light and grounded. Adding these rustic decorations on your wall will enhance any farmhouse setting.
A little bit of farmhouse-style charm here and there can go a long way toward making a space feel like home. It's mostly the warmth of the natural wood often used in such designs and the authenticity of the materials that make spaces look and feel welcoming and charming.
That being said, next time you remodel consider a farmhouse bathroom decor or even just adding a few little suggestive details here and there, enough to create a warm and inviting ambiance in the room, whatever its function may be.