Farmhouse Decor 101: Mudroom
Posted by Constantine Kirillov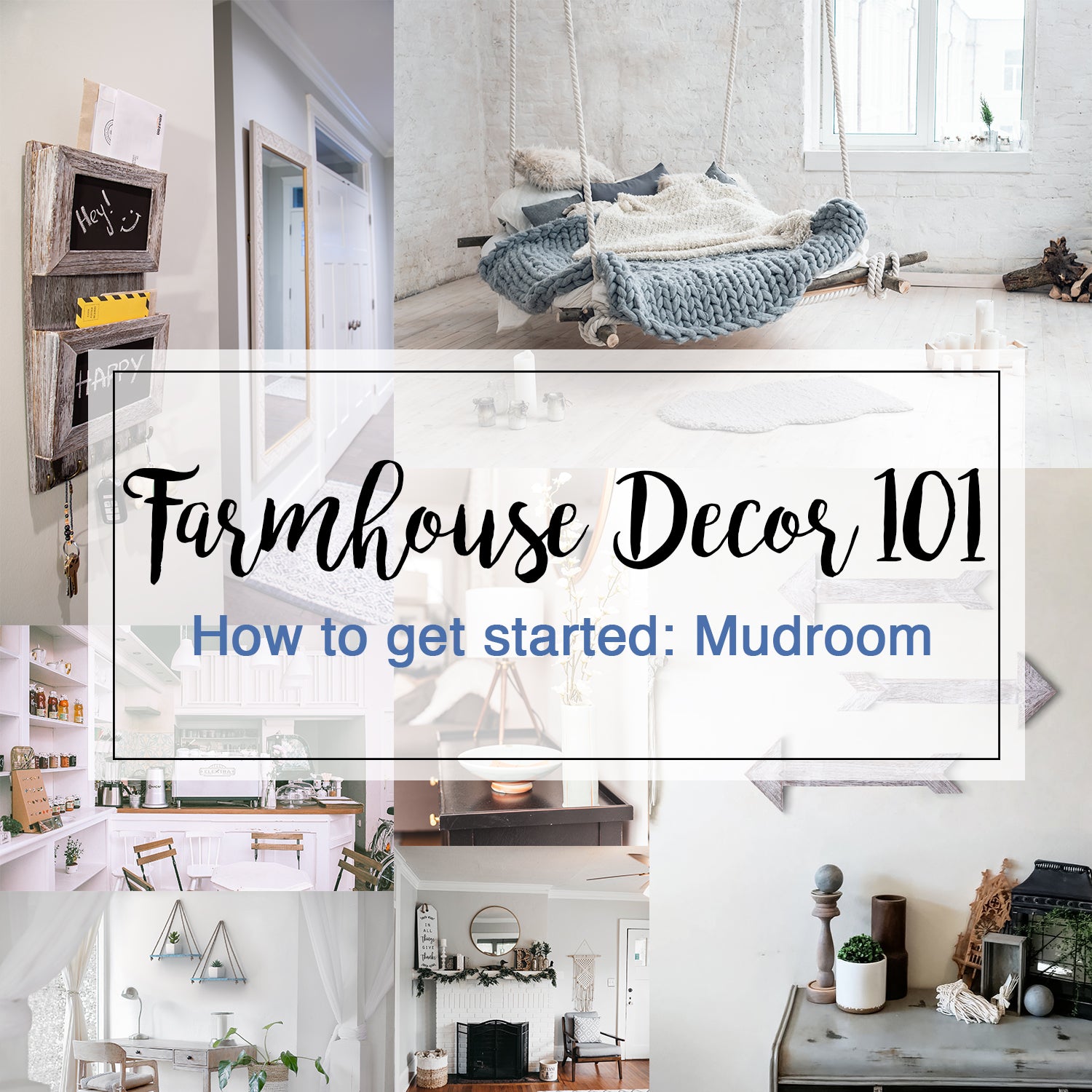 Traditionally, farmhouses are simply homes built on agricultural lands to house and protect who owned or worked the land. The term Farmhouse isn't necessarily connected to a particular style identified by a fixed set of features, but a setting for a way of life. This is most likely why its appeal seems to be timeless.
A farmhouse is elegant and yet simple. It represents a peaceful agrarian life, but at the same time it serves as a home base for its activity, hence connected to productivity. The farmhouse can be seen as refuge, a safe environment that is grounded in purity, honesty, and simple value. Depending on the type of farm, it also gives its inhabitants a way to be somewhat self-sufficient.
The form of this type of home is highly adaptable. Farmhouses can easily be expanded because their basic shapes make it easy to add porches, sheds, and wings. These houses can also be dressed up or dressed down, depending on what you expect from a home. Each house takes on the imprint if the people who lived there, resulting in a truly vernacular style, one that adapts to local needs and preferences.
Today we're focusing on one room type that has become a necessity even in our modern lives: the mudroom.
So what is a mud room?
A mud room (or mudroom) is a sort of entry room that separates the indoors and the outdoors. Its primary job is to keep the mud out. Usually, the mud room is where you will take off your shoes and hang up your coat, leaving the outdoor world behind when you enter your home. The term "mud room" is definitely more popular in the US, but it seems to becoming more and more of a thing over here in the UK. Of course, the concept of mud rooms already existed but we've never really called them mud rooms…. They're either a utility room toward the back of the house, or the front porch conservatory thing where the postman drops the mail through the letterbox, with glass windows on all sides and a second front door that actually leads into your home.
In bigger houses, mud rooms are usually the utility rooms found at the back of the house, where you'll also find the washing machine, sink, drier, and a back door to the garden. But mud rooms can be at any entrance.
Nowadays mudrooms are a necessity even in modern urban homes.
Essentials for a Farmhouse Decorated Mudroom
Due to the nature of a mud room, you will want floors that are easy to clean. Whatever you to choose for the floor of your mud room, you do not want the floor to be carpeted.
Storage space is an important aspect of any mud room. You need to consider how you would like to store your outdoor clothing and shoes. Maybe a shoe rack for your boots and shoes. And for your coats and jackets, you could have a coat rack for them, or hooks to hang them on or, depending on space, you could even have a coat closet. And what about bags, hat and scarves? Will you want to leave these in your mud room too? Maybe you'll need some kind of table or shelf to store things like car keys or sun screen lotion?
Here are our favorite products to place in your mudroom:
Rustic Wall Mounted Coat Rack with 3 Sturdy Hooks
Probably the most important component of rustic style is the raw natural materials used in architecture and décor alike. The more natural these elements appear to be, the easier it is to find and maintain a cohesive contemporary rustic style throughout the entire space. Use these wall hook racks in your bathroom, to create a farmhouse bathroom décor by adding it on the wall, in your bedroom to easily grasp your robes in the morning or in your entryway to conveniently hang your coats.
Pack of 10 Decorative Rustic Wall Hooks – Entryway Farmhouse Coat Hooks for Wall
Whether you are looking for a cute way to accent your hallway with a little shabby chic charm or if you've drenched your home in vintage style, these impressive and sturdy coat wall hooks will draw compliments every time. Large enough at 5.5" x 3" to hold their own in any room, you can safely hang just about anything on them without worry The cleverly distressed and aged look will lead your guests to think these hooks are actual antiques that you've salvaged from some vintage boutique. But don't even think of treating them like antiques, though - these are heavy duty metal, made to support the way you live your life. If you can hang it, these hooks can take it.
Barnwood Decorative Wooden Sign – Set of 3 Arrows for Wall Décor
If you're looking around the room and you feel like there's one special touch missing, why not personalize your space with wooden signs? Fill in empty areas of the room with this beautiful, carved wood sign to add a stylish touch.Defined, rustic style is a design emphasis on rugged, natural beauty. It embraces nature-inspired textures, simple and earthy colors, and ultimately an unpretentious, organic warmth.
Rustic Wall Mounted Shelves – Kitchen or Bathroom Farmhouse Rustic Décor
No matter where you hang this vintage inspired shelf its bound to create style, storage and organization. Or you can give it as a gift for that upcoming birthday, Mother's Day, Christmas, and especially to your newly wedded friends who would love to have this rustic organizer in their home.This vintage wall décor organizer is both convenient and decorative. The two tier storage allows you to hold photo frames, flowers or any décor item and the two double hooks at the bottom lets you hang scarves, hats, keys and more.
And last but not least, a very popular item of the mud room is some sort of seating space, like a chair or a small bench where you can sit as you put on or take off your shoes. So, weather you want to keep your house even cleaner, or just get some extra room to decorate, a farmhouse mudroom can become a useful piece of art.