Jewelry organization tips for the modern woman
Posted by Constantine Kirillov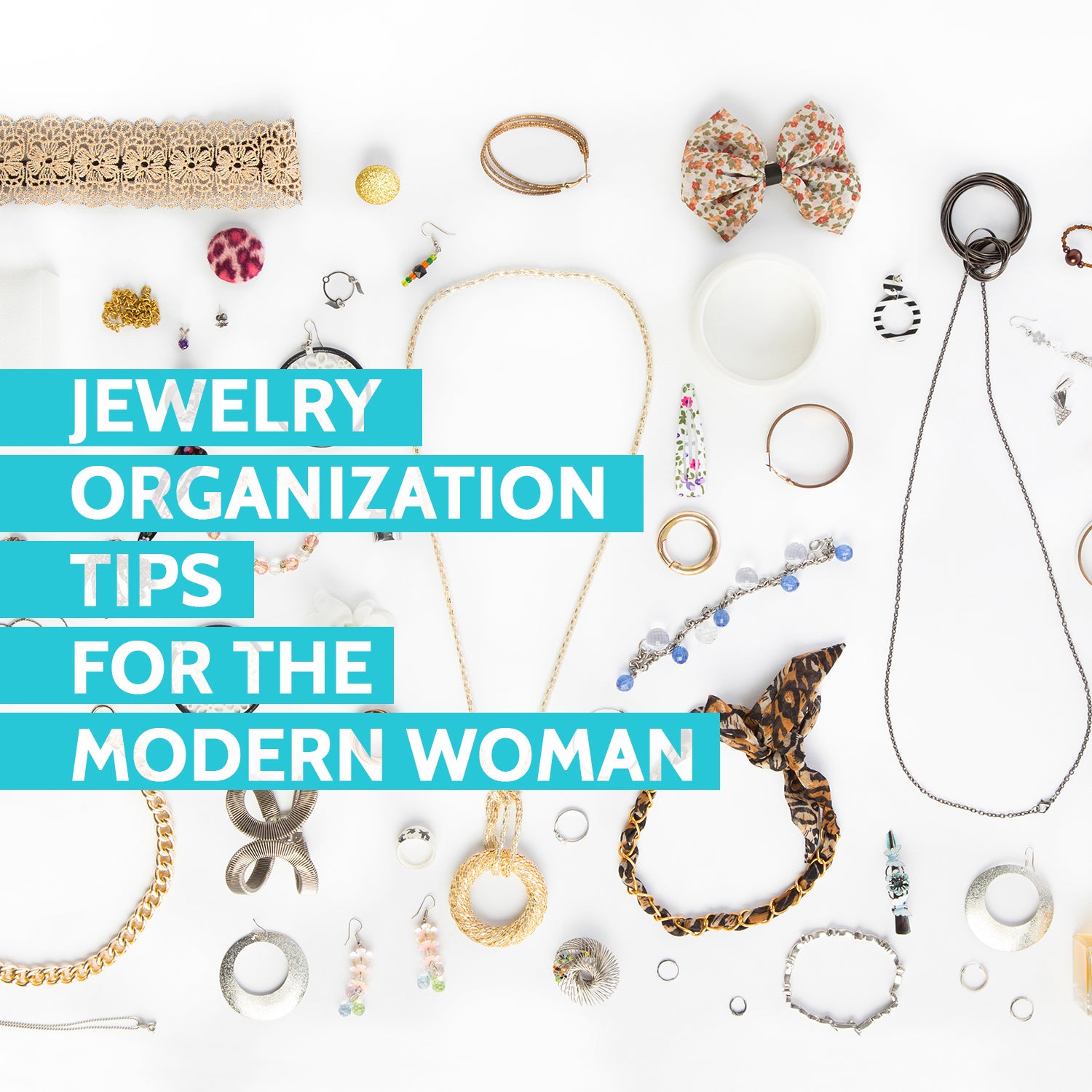 Long necklaces, chunky bracelets, earrings that tend to get lost and rings of all sizes - no wonder displaying and organizing your jewelry collection can be so challenging. Combine that with having to decide whether you want to organize your jewelry on a countertop, in a drawer or even on a wall, and it's easy to see why the task never gets done. Fortunately, with all the organizers available, it's easier than ever to create your own custom solution. 

Getting Started

If you've ever hunted for a missing earring, or worn the same jewelry day after day because it's easier than finding the necklace you're looking for, this project is for you. And with all the ways you can organize your jewelry, you're sure to find a system that is perfect for your collection.

Step 1: Go Through All Your Jewelry

First gather all your jewelry together in one place and sort into piles. You'll want to separate jewelry by type and by occasion. Be sure to inspect each piece for damage and wear, and set aside items that need to be polished or repaired.

Step 2: Clean, Repair & Prevent Tarnish

This is a great opportunity to get your jewelry in tip-top shape. Take this time to polish tarnished silver or gold pieces. Clean rings and wipe down pearls. Have a broken bracelet clasp or necklace chain? Take it to be repaired. Don't forget to replace missing earring backs. Finally, store occasional pieces in a special jewelry bags design to prevent tarnish. 

Step 3: Select Your Organizers 

The problem with jewelry boxes (besides the fact that your pendant necklaces and bangles get all tangled up) is that you only get to show off your jewelry when you're wearing it.

That might sound obvious, but think of it this way - your jewelry collection is one of your most beautiful possessions, so why not showcase it even when it's not on you? Now your jewelry can decorate your room and add some glittering character to your space. We've selected our top favorite jewelry holders for your wall, which will make your life easier and you home more beautiful.

1. Rustic Jewelry Display Organizer for Wall


With a removable bracelet rod and 24 hooks, you will have enough space to hang your favorite jewelry pieces that will stay organized and in handy every time you need them. 
With the included mounting hardware you can be confident that installing this jewelry organizer is a piece of cake even for a lady! 2 x 4cm screws and 2 drywall anchors per piece are already included so you'll have this on your wall in no time.


Made from light and sturdy paulownia wood, this cute jewelry holder is light enough not to fall off from your wall, but sturdy enough to hold all your earrings, bracelets, necklaces and more. Available in several rustic colors like: distressed white, distressed blue, torched brown and even mixed colors, you'll definitely find one that will look amazing in your home.


2. Wire Screen Rustic Jewelry Organizer

This is by far, our top favorite. With a large wire screen, removable bracelet rod, 16 hooks AND a shelf, this amazing jewelry holder has everything you need to keep your items organized. Not to mention that it will look beautiful in any room you place it.

 This high-quality jewelry holder is made of sturdy paulownia wood and recycled iron that will last for a lifetime! So you can feel comfortable enough to place all your bracelets, bangles, watches, bands, cuffs and more and be sure that it won't fall.

It also comes with mounting hardware and an instruction manual so you'll have this on your wall in no time.  Show off your jewelry every time your friends stop by, by using a wall mount rustic jewelry holder.

The wooden jewelry holders look as good in a farmhouse style home as it would in a Scandinavian inspired loft.

There is no woman or girl who doesn't love jewelry. It is good to have a lot jewelry but it is better if you know every time where is your favorite pair of earrings or your favorite necklace. If you keep your jewelry in boxes it is possible to make a big mess and damage or entangled your jewelry. Put an end to your nervousness every time you`ll look for a piece of jewelry – get yourself a decorative jewelry display holder for wall, today.