7 Ways to organize your desk effectively and stylishly
Posted by Constantine Kirillov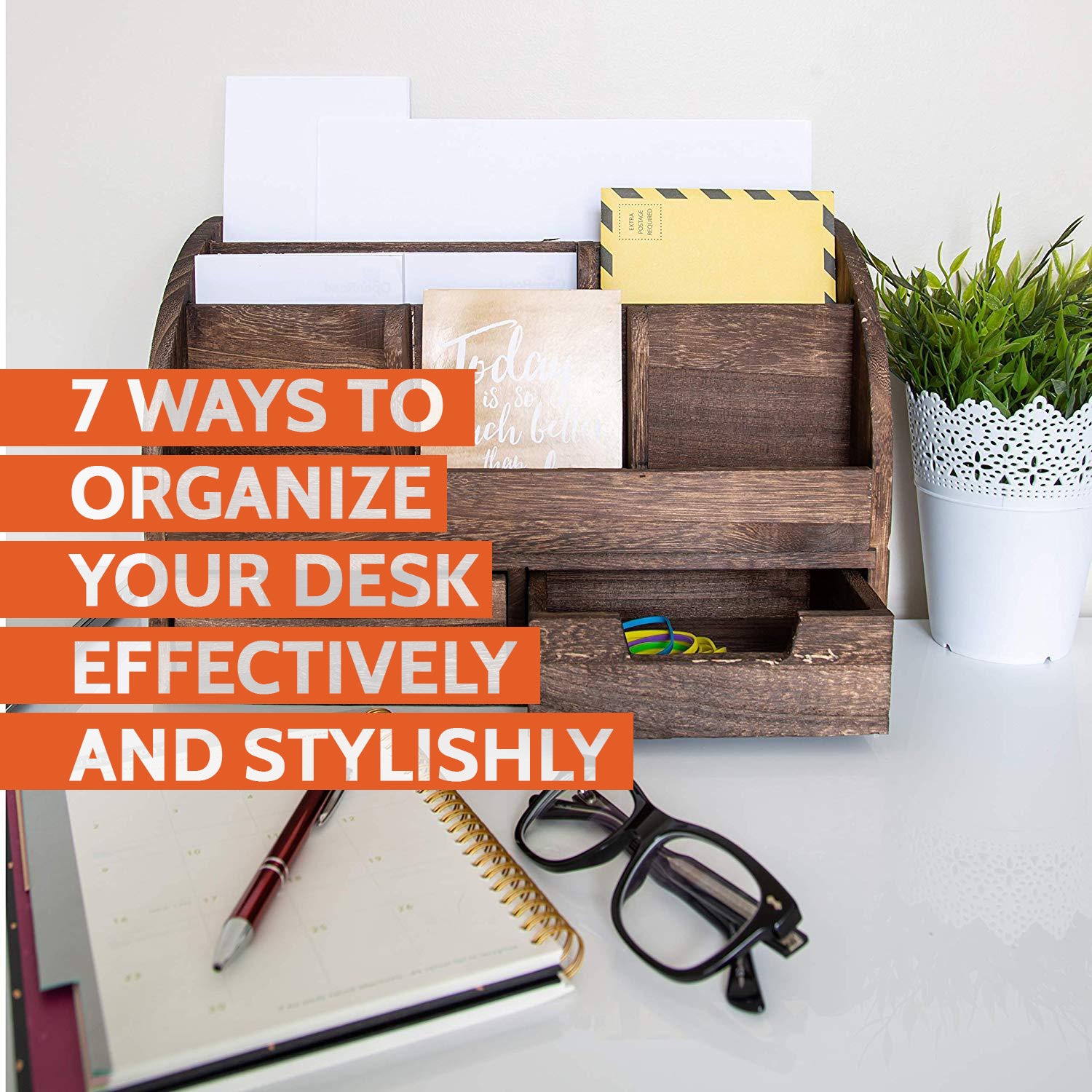 As the saying goes, "a cluttered desk is a sign of a cluttered mind." Keeping your workspace clean and organized can have a huge effect on your productivity, concentration, and ability to find everything you need. You might be surprised how much more efficiently you'll be able to work after cleaning out a junked up desk. All you need is a little bit of time, the discipline to throw away unneeded items, and a system for making sure everything is in its proper place. And of course, don't forget about getting a rustic, decorative desk organizer. Now, let's get started!
Start from scratch. Reorganizing will be easiest if you start with a blank desk. Clear everything off the top. Remove items from the drawers (if you have them). Keep everything together on a separate table or on the floor so you can go through it later. Once the initial clutter is out of the way, you'll be able to assess exactly how you want your desk to look. It will likely take much longer to go through your desk one object at a time looking for things to throw away.
Clean your desk inside and out. Take advantage of your desk being clear and use the opportunity to give it a good cleaning. Dust and wipe your desktop down with a multi-surface cleaner. Treat lingering stains and polish away scratches in wooden desks. Your desk will look brand new when you're finished.Be sure everything has been removed from the desk before you start cleaning. Otherwise, you'll have to clean around the existing clutter.
Throw away old and unnecessary items. Take the junk you removed from your desk and divide everything into two piles: one for things to throw away, and another for things you intend to keep. Be stern with your choices. Get rid of as many unimportant items as you can until your stuff has been pared down to the bare necessities. This will make it easier to keep up with everything.
Update your space. Take a look around your desk for anything that's no longer current. This can include outdated calendars, answered and unanswered mail and even old photos. Find fresh replacements for these objects. Throw away the out of date items or put them in storage. Everything on your desk should be new and ready to use going forward.
Change up your desk's configuration. Now that it's time to start putting things back on your desk, don't just stick everything back where it was. Think of new ways you could reorder your desk to take advantage of the space you have. You might simply "mirror" your desk by putting things back on the opposite side, or choose new locations for each piece individually. Devising an engaging layout that will help you stay interested while you're working.
Arrange items sensibly. Once you have an idea of how you want your new desk layout to look, position your belongings in a way that will maximize productivity while eliminating potential clutter. Reserve the center of the desk for your computer, for instance, while keeping important tools and documents within arm's reach. Not only will this make it easier to work, it will also keep you from having to search for things because they will always be in the most logical spot.
Get a rustic desk organizer. Get a decorative look to even the most mundane tasks! Quickly jot your to-do lists, reminders, and love notes with writing materials directly from your pencil cup holder. Organize messages, bills, stationary, and mail using the letter sorter. With three divided sections, it offers total visibility for easy access and sorting. Use the letter tray for documents and files, while keeping keep phone messages, post-it notes, and memos in place with the sticky note holder. As a trendy space-saver, the hanging file organizer basket keeps files, books, magazines, and folders mounted to the wall if needed. The possibilities are endless!
Here are our top two favorite desk organizers:
A clear workspace can help improve concentration and let you get more done. The wooden, farmhouse organizer gives you a place to put your papers, pen and even your phone, letting you quickly clean and tidy your space for a new project while keeping everything you need close at hand.
Just take it out of the box, place it on your desk, and get organized! Our farmhouse organizer will keep your stuff organized while giving your space a warm, rustic touch. Choose the color that matches your home decor: rustic blue, distressed white or torched brown.
Decorate your space with this fascinating desktop organizer! A great gift for school openings, dorm room move-ins, promotions, holidays and all kinds of events. A dorm essential, office necessity you cannot miss.2 slide-out drawers, 4 compartments for small accessories and 2 compartments for mail, letters or larger accessories. Impress your guests with a neat and stylish décor!
Made of sturdy paulownia wood, this product will fit your needs perfectly by being LIGHTWEIGHT but at the same time STURDY enough to hold your favorite belongings in place.
So, weather you want to be more productive, or just get the good feng-shui vibe, get yourself a desk organizer and live a life without clutter starting today.