10 ways to make your entryway look amazing without renovation
Posted by Constantine Kirillov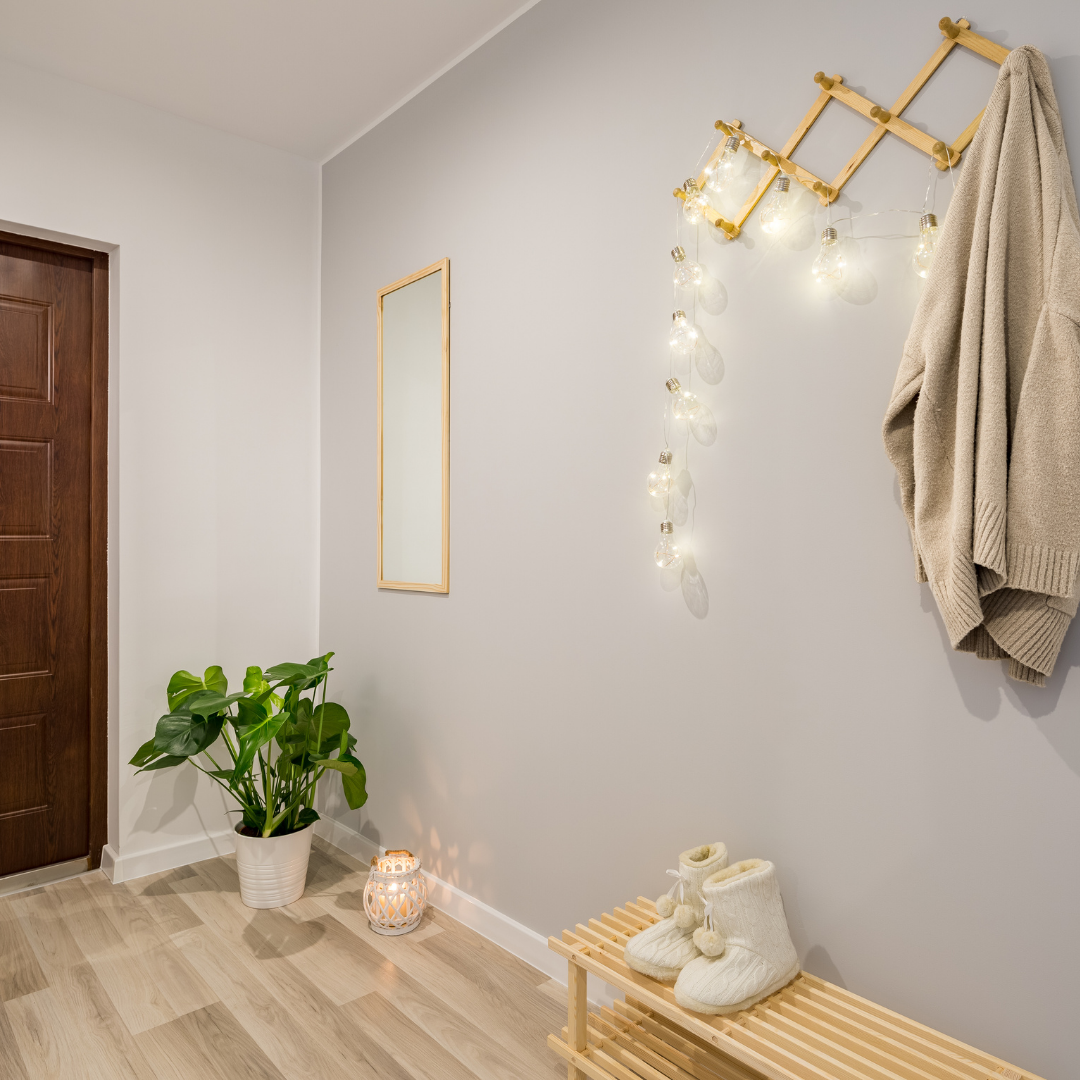 When you're making changes to your home, the first thing that should come into consideration is what functions this space will serve. Most homes don't dedicate a lot of square footage towards their entryway; however it's an area which demands hardworking storage and systems in order for it be clutter free as well organized! No matter how big or small your Entry Way may seem there are several basic things incorporated into them so they can always stay neat without much effort on behalf of homeowners like yourself who desire perfection from every inch within these hallways
The following list includes some tips
1. A SMALL TABLE CREATES A DROP ZONE
Console tables are a great way to add style, function and organization in your entryway. I was shopping for the perfect one before we had our son!

Adding an attractive console table is not only elegant but also functional: it holds keys or mail without slipping off onto the floor; if you have small feet like me then this helps take up less space than other sorts of furniture because there's no longer any need at all for chairs.
When considering a table for your entryway, first measure the space to find out what size will fit. I opted with an open console one that can hold baskets and bins on top of it's bottle shelf- there are tons more options if you're looking for something smaller or even ones without drawers!
2. A BOWL CORRALS KEYS & LOOSE CHANGE
Every entryway should have a designated spot for keys and other odds-and ends! If you get in the habit of always dropping your keys right when walking through that door, then not only will this prevent panic from ever happening while rushing to leave or madly searching all over trying find where they went (literally anyone else's nightmare), but it also ensures their safety by keeping them away from possible harm. So next time someone asks me how we keep up our diaries without any trouble at home - I'll happily show off my pretty bowl with car key inside.
3. HOOKS KEEP JACKETS, PURSES & THINGS OFF THE FLOOR
Every entryway and coat closet needs some hooks. They make it easy to hang jackets, scarves hats backpacks purses so you don't pile them on the floor or sit in a chair with no place for your bag! I recommend adding decorative ones that also serve their purpose well by providing handy spots when needed most like if guests come over unexpectedly but are too busy talking to notice where they left things at first glance- then these wall mounted decorations from Comfify will save us time instead of running around looking under cushions all evening long while trying not knock anything over before someone has finished speaking...
4. A STORAGE BOX KEEPS HATS & GLOVES HANDY YET OUT OF SIGHT
Hiding away your clutter is easy with this storage box. A pretty label makes things look more organized and stylish, while the decorative design hide all those goodies inside! It's great for winter items too - but don't forget about summer needs like sunscreen or an umbrella either.
5. Replace your doormat with a mat that has an interesting design and reflects the style of your home
It's no secret that a doormat is an important part of your home's exterior. Not only does it keep your floor clean, but it also helps to protect your door from scratches and scuffs. If you're looking to add some personality to your front porch, consider replacing your traditional doormat with a mat that has an interesting design. There are many different designs to choose from, so you're sure to find one that matches your style. Plus, a unique mat will add some character to your home and make it stand out from the rest.
6. Hang artwork on the walls or add some unique decor that will catch people's eye
People often forget about the walls when it comes to decorating their home. There are so many options for adding personality and style to a space, and the walls are a perfect canvass for doing just that. Whether you hang artwork or add some unique decor, make sure that whatever you choose catches people's eye. That way, your home will be stylish and comfortable at the same time.

7. Add a mirror to make the space look bigger
Adding a mirror to a room can make it look bigger and brighter. If you're looking for ways to open up your space, mirrors are a great option. They can also help reflect light, making the room feel more cheerful. There are a lot of different types of mirrors to choose from, so take some time to find the right one for your home. You may want to consider the size and shape of the mirror, as well as its style. A mirror can be a great way to add personality to a room and brighten up your décor.